Michael "Monty" May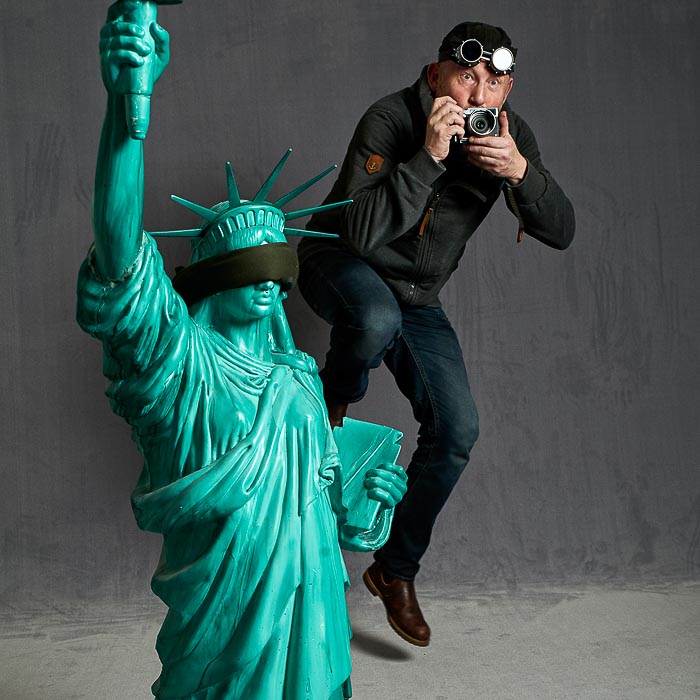 Michael May has been working as a staff photographer at a German newspaper for more than 26 years and he is a founding member of the renowned and very popular Observe Collective, an international photography collective focused primarily on the practice of candid street photography.
Michael (or as his friends call him Monty) is manager of the street photography festival Observations, which started off in 2017.
Working as a photo journalist, Michael is not a true-blooded street photographer, but a crosser between documentary and street.
His credo is: "I am not interested in rules and conventions. Street photography is documentary photography in terms of observing our social environments, but not every documentary photography must necessarily be street photography.
Photography is not a sport – it's pure fun … and sometimes a little piece of art.
Solo Exhibitions
2010 "Erfolgreich Angekommen" – SPK Galerie, Iserlohn/Germany
2009 "Jours de fêtes" – Städtische Galerie, Iserlohn/Germany
2003 "Menschen und Hunde im Duloh" Galerie Haus A Barendorf, Iserlohn/Germany
Group Exhibitions
2017 "Via! – Straßenfotografie von Hamburg bis Palermo" – Palazzo dei Leoni, Messina/Italy
2017 "Via! – Straßenfotografie von Hamburg bis Palermo" – Pasinger Fabrik, Munich/Germany
2017 "Home" – Exhibition with Observe Collective – Galerie Haus A Barendorf, Iserlohn/Germany
2017 "Via! – Straßenfotografie von Hamburg bis Palermo" – Städtische Galerie, Iserlohn/Germany
2017 "Via! – Straßenfotografie von Hamburg bis Palermo" – Istituto Italiano di Cultura Amburgo, Hamburg/Germany
2016 "Via! – Straßenfotografie von Hamburg bis Palermo" – Istituto di Cultura Germanica, Bologna/Italy
2016 "Via! – Straßenfotografie von Hamburg bis Palermo" – Torre del Brandale, Savona/Italy
2016 "Via! – Straßenfotografie von Hamburg bis Palermo" – Capella Scafurno, Livorno/Italy
2016 "Via! – Straßenfotografie von Hamburg bis Palermo" – Castello San Giorgio, La Spezia/Italy
2016 "Via! – Straßenfotografie von Hamburg bis Palermo" – Palazzo Albrizzi, Venice/Italy
2016 "Via! – Straßenfotografie von Hamburg bis Palermo" – Goethe-Zentrum, Palermo/Italy
2016 "Via! – Straßenfotografie von Hamburg bis Palermo" – Museo di Roma in Trastevere, Rome/Italy
2015 "Observe Collective Exhibition" – Städtische Galerie, Iserlohn/Germany
2014 Slideshow with the Observe Collective at Miami Street Photography Festival (BSPF) – Miami/USA
2005 "Weder Fisch noch Stein" – SPK Galerie, Iserlohn/Germany
2003 "Orte und Plätze in Iserlohn" 4 Exhibitions in different galleries Iserlohn/Germany
2000 "Tanzmomente" – Galerie Parktheater, Iserlohn/Germany
Awards
2017 Finalist Brussels Street Photography Festival – Galerie Ravenstein, Brussels/Belgium
2015 Finalist "Photo Bangkok Festival 2015" – Bangkok/Thailand
2012 Winner of "Stranger After Dark" contest by Thames and Hudson, London/UK
Membership
Founding member of the Observe Collective
Observe Collective featured by Stern magazine
Observe Collective on Wikipedia